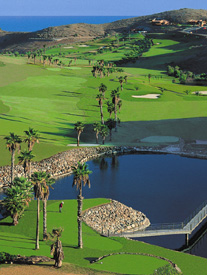 Salobre Golf
Salobre Golf & Resort:
Facts & Figures
36 holes (2 x 18 hole courses), each par 71
Salobre Old
18 holes, par 71

Championship - 6112 m,
VC 72.4, Slope 117

Gentlemen - 5565 m
VC 69.1, Slope 120

Ladies - 5016 m
VC 71.8, Slope 119
Salobre New
18 holes, par 71

Championship - 5524 m
VC 71.8, Slope 133

Gentlemen - 5051 m
VC 69.2, Slope 129

Ladies - 4736 m
VC 71.9, Slope 132
Download Salobre Old & New Scorecards
Handicap Restrictions at Salobre Golf & Resort:
29 Men, 36 Ladies. All players have to show their handicap card/certificate at the pro shop together with identity card or passport. Those clients with no handicap certificate will have to visit the golf pro and he will decide if they can play. People with higher handicaps can play after 16.00h according to availability.
Buggies:
A buggy is mandatory on the Salobre New course (not included in green fee).
Practice facilities and rentals at Salobre Golf & Resort:
Two sided Driving Range, More than 20 boxes per side, 2 Putting greens, 1 Chipping green, 3 Practice bunkers, Golf Academy, Buggy rental, club rental

Academy facilities at Salobre Golf & Resort:
Instructions - Beginners: 90 minutes
Golf Development: 5 hours.
9 holes with the pro : 2 hours 30 minutes.
Mile Practice:
Located in the New Course and consisting of more than 10.000 square
meters, "The mile practice" offers:

Putting green from the first Tee:
400 m2 of green situated next to the First Tee in the New Course. An obliged
visit whilst we wait for our tee time.

Bunker area:
500 square meters of Green with a large practice bunker suitable up to 5
players.

Chipping Green:
500 square meters of Green with a large approach area where guests can
practice strokes up to 50 meters . Has a capacity for 10 people.

Practice Par 3:
Small par 3, 90 meters in length, where players can have their first
experience before going on the main course.

Putting green ( Academy):
500 square meters of Green with a border that allows you to chip. Has a
capacity for 10 persons.

Driving Range:
2 platforms with a capacity for 10 persons each. The Academy's platform is
reserved for groups. Its spaces are delimited by wood dividers . The 1st Tee
platform is reserved for those players that wish to hit some balls before their
tee off.

Club fitting center:
Specialized workshop for all types of equipment. Qualified Clubmaker and
tools that allow for the study of the golf swing.

Salobre Golf Academy:
Initiation courses, individual classes, video analysis, etc.

Weather on Gran Canaria:
The average daytime high ranges from 20°C in winter, to 26°C in summer. Some cool nights occur in winter, but lows below 10°C are unknown near the coast.
Salobre Golf & Resort Location:
5 minutes from Maspalomas and 10 minutes from Mogán.
Salobre Golf & Resort
Maspalomas, Gran Canaria, Spain

Salobre Golf consists of two 18 hole, par 71 golf courses, Salobre New course and Salobre Old course. Salobre Golf & Resort is the only Resort in the Canary Islands with 36 holes.
Salobre Old
Views of Salobre Old Course and course amenities


The Salobre Old Course was launched in 1999, and is one of the most traditional and popular courses on the island. Designed by Roland Favré, this par 71, 18 hole course has been recognized for hosting important tournaments such as the Spanish PGA in 2006. This traditional course is for players of all levels. Tees with different heights and small putting greens are its special signature. A special emphasis lies on the par 3s for having the most demanding and characteristic holes, especially the 11th hole, for its level of difficulty and its stone surroundings.
Salobre New Course
Views of Salobre New Course and course amenities
The Salobre New Course was built in 2008 and designed by Ron Kirby. This par 70, 18 hole course has experienced a tremendous evolution in the past years. The New Course will surprise those players looking for a new experience with its special design and unique landscape. It is technical and demanding and reminds you of the links courses as it adapts to the surroundings and the wild nature. The difficulty of some strokes is compensated with short holes where you'll get excellent results with the right strategy
Resort Accommodation:
Salobre Hotel & Resort
Discount Golf Green Fees & Book Tee Times
We offer our clients guaranteed tee times with discount golf green fees on Salobre Old and New golf courses in Gran Canaria
Course Map (Salobre Old Golf Course):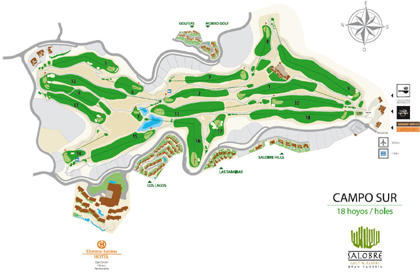 Course Map (Salobre New Golf Course):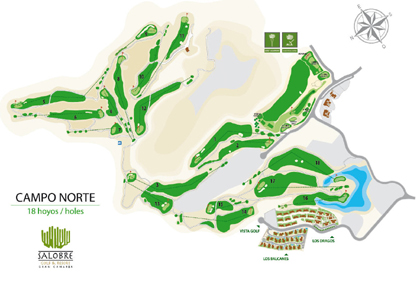 Click on maps to enlarge
Salobre Golf Location Map:
Get a price quote for a golf holiday including Salobre Golf and/or Salobre Golf Academy
Back to Gran Canaria Hotels and Accommodation