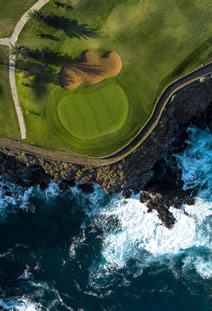 Buenavista Golf Club
Buenavista Golf: Facts & Figures
18 holes, Par 72
Designer:
Seve Ballesteros

White - 6019 m
Slope 127, VC 71.4

Yellow - 5747 m
Slope 124, VC 70.2

Blue - 5311 m
Slope 123, VC 73.6

Red - 4932 m
Slope 119, VC 71.3
Facilities at Buenavista Golf:
Driving Range facing south with a slight slope, 2 Putting greens very close to the Club House, Chipping Area to practice the short game, Ballesteros Natural Golf School. Buggy, trolley and club rentals. Bar and restaurant and terraces at clubhouse.
Clubhouse with terraces, bar, restaurant
Handicap Requirements:
Ladies 36, Gentlemen 28
Weather in Tenerife:
Ideal conditions with an average year round temperature of 23º C / 74º F
Buenavista Golf Location:
65 minutes from Playa Las Americas or Costa Adeje; 47 minutes from Puerto de la Cruz; 60 minutes from Tenerife North Airport; 75 minutes from Tenerife South airport
Buenavista Golf Club
Buenavista de la Norte, Tenerife, Spain

Situated on the extreme north-western corner of the island of Tenerife, Buenavista golf course is surrounded by the Teno mountain range and the Atlantic Ocean, just over an hour's drive from Playa Las Americas. The drive to this course is very scenic, with views of the volcano, ocean and villages, and can make for a great day out. The 18 hole, par 72 course was designed by Seve Ballesteros.The course has 6 par 3s, par 4s and par 5s. The greens of 5 holes are close to the small cliffs of the rocky coastline, and breaking waves create a remarkably beautiful view.
Buenavista Golf Club
Discount Green Fees & Book Tee Times
Buenavista Golf Location Map:
Get a price quote for a golf holiday including Buenavista Golf