Playitas Resort Aparthotel
Las Playitas (Tuineje), Fuerteventura, Canary Islands, Spain
Official rating: 4 stars
Playitas Resort is set in a delightful bay next to Las Playitas, in the borough of Tuineje. Accommodation available at the Hotel, Aparthotel and Villas. The Aparthotel has 114 studios and 96 apartments distributed over 7 individual buildings. The Aparthotel is ideal for couples, families, and golfing foursomes who want to enjoy nature, relaxation, tranquility and sports. There is a Kids Pool and Kids Club on site. The Resort boasts an extensive range of sports facilities where guests can take part in a wide variety of activities. There is an 18 hole golf course on site, and many advantages for families with junior golfers. It will take you 45 minutes from the airport to get to the resort.

Especially recommended for:
Couples, families, golfing foursomes.
Resort golf:
Other golf on Fuerteventura:
Salinas Golf Club (31 min),  Fuerteventura Golf Club (34 min), Jandia Golf (42 min).
Golf Tenerife-Gran Canaria's Playitas Resort Aparthotel Golf Package:
7 nights accommodation in a standard studio apartment at the Playitas Resort Aparthotel in Las Playitas, Fuerteventura, on a self-catering basis, with unlimited golf on the Playitas Golf Club including trolley and locker: 
Please enquire for current prices  

Book: Playitas Resort Aparthotel Golf Package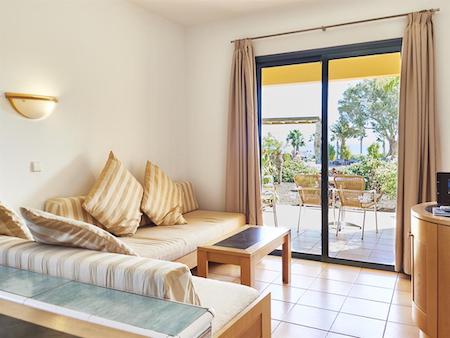 Golf Offers:
Golf Tenerife - Gran Canaria offers reduced rates for their clients on Fuerteventura Golf, Salinas Golf, Playitas Golf, and Jandia Golf golf courses.


Get a price quote for a golf holiday at Playitas Resort Aparthotel

Back to Fuerteventura Accommodation