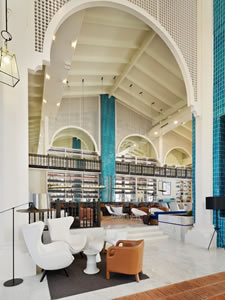 H10 Timanfaya Palace: lobby
H10 Timanfaya Palace: Facts & Figures
• 305 Rooms
• 2 outdoor pools and 1 heated indoor pool NEW!
• Free Wi-Fi
• Internet Corner (with additional charge)
• Outdoor Jacuzzi
• Chill-Out terrace
• Sun lounger area with sea views
• Sauna
• Beauty treatments, massages and body treatments
• Tennis court, scuba diving centre and minigolf (with aditional charge)
• Nudist area
• Boutique
• Car and bicycle hire
• Laundry service
• Adults Only - 18 years
• Parking lot - free (not attended)
• Gymnasium - free
• 24 hour medical service
• Rooms for disabled persons
• Hairdresser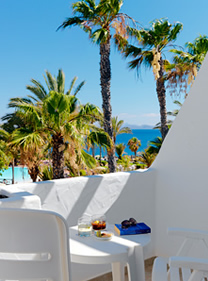 Rooms:
The bright rooms at the H10 Timanfaya Palace have elegant and functional decor and are equipped with all the amenities needed to ensure a pleasant stay.
• Double Room
• Basic Double Room
• Double Room Sea or Pool View
• Superior Double Room Sea View
• Privilege Superior Room
• Junior Suite
Basic Double Room:
Spacious, comfortable room with a balcony or terrace without views, located on the hotel's ground floor.
• Double/Twin Room
Bathroom:
• Textures Collection Amenities
• Hairdryer
• Bathtub
Equipment:
• Safe box, with additional charge
• Fridge, minibar or mini-fridge (on request and with additional charge)
• Kettle
• Air conditioning
• TV with international channels - Flat Screen
Outdoor room:
• Furnished terrace
Double Room:
Spacious, comfortable room with balcony or terrace.
• Double/Twin Room
• Garden views
Bathroom:
• Textures Collection Amenities
• Hairdryer
• Bathtub
Equipment:
• Safe box, with additional charge
• Fridge, minibar or mini-fridge (on request and with additional charge)
• Kettle
• Air conditioning
• TV with international channels - Flat Screen
Outdoor room:
• Furnished terrace
Double Room Sea or Pool View:
Spacious, comfortable room with a balcony or terrace and sea or pool views.
• Double/Twin Room
• Sea or Pool view
Bathroom:
• Textures Collection Amenities
• Hairdryer
• Bathtub
Equipment:
• Fridge, minibar or mini-fridge (on request and with additional charge)
• Kettle
• Air conditioning
• TV with international channels - Flat Screen
• Fridge, minibar or mini-fridge
Outdoor room:
• Furnished terrace
Superior Double Room Seaview:
Spacious, comfortable room with balcony or terrace and sea views. Includes special amenities.
• Double/Twin Room
• Sea view
Bathroom:
• Scales
• Textures Collection Amenities
• Cosmetic mirror
• Hairdryer
• Bathtub
• Bathrobe and slippers
Equipment:
• Safe box, with additional charge
• Fridge, minibar or mini-fridge (on request and with additional charge)
• Air conditioning
• TV with international channels - Flat Screen
• Fridge, minibar or mini-fridge
Outdoor room:
• Furnished terrace
Privilege Rooms and Services:
Have a unique experience with the Privilege service, Exclusive Rooms and Services of the H10 Timanfaya Palace. With this service you will be treated exclusively, enjoy exceptional gastronomy and stay in the best rooms.
Privilege Services:
• Access to the Privilege Lounge with free bar, press, TV, Internet and other services
• Breakfast and dinner in Kasbah a-la-carte restaurant (Tuesday in the buffet restaurant)
• Special discount on massages, Health and Beauty treatments and hair-styling
• Personalised check-in and check-out in Privilege reception
• Late check-out (subject to availability)
• Bellboy service
• Guest Service at your disposal
Privilege Double Room:
Spacious, comfortable room with a balcony or terrace and views of the sea or pool, which stands out for its Privilege amenities, services and facilities.
• Double/Twin Room
• King size bed
• Sea views
• Pool views

Privilege Services:
• Pillow menu and pillow-top
• Preparation and cleaning of room (twice a day)
• Exclusive pool towels
• VIP amenities
• iDock Station (for iPhone, iPod, iPad, MP3)
• Nespresso coffee machine
• Privilege bathrobe and slippers
• Daily press and weather forecast
• Bali beds and sun loungers
• Personalised customer service
• Personalised check-in and check-out
• Bellboy service
• Free parking

Guest room:
• À la carte menu for breakfast and dinner
• 10% off Despacio treatments
• Access to Privilege lounge
Bathroom:
• Scales
• Textures Collection Amenities
• Cosmetic mirror
• Hairdryer
• Bathtub
• Bathrobe and slippers
Equipment:
• Safe box, with additional charge
• Fridge, minibar or mini-fridge (on request and with additional charge)
• Nespresso coffee machine
• Air conditioning
• Pillow menu
• TV with international channels - Flat Screen
Outdoor room:
• Furnished terrace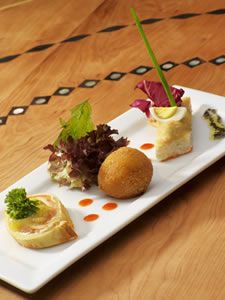 Restaurants & Bars:
Enjoy the wide range of dishes on offer in the La Bocaina restaurant, with buffet and show cooking, and discover the Mediterranean and Middle Eastern fusion cuisine in the new à la carte Kasbah restaurant.
Have a pleasant lunch by the pool in our La Geria restaurant, and indulge yourself with the delicious pastries and coffees served up at Mike's Coffee.
La Bocaina Restaurant (REVAMPED!):
Buffet restaurant with show cooking.
OPENING HOURS:
Lunch: 1 pm - 3 pm
Evening meal:
6.30 pm - 9.30 pm (winter)
7 pm - 10 pm (summer)

Kasbah Restaurant (NEW!):
À la carte restaurant specialising in Mediterranean/Arabian fusion cuisine.
OPENING HOURS: 7 pm - 10 pm

La Geria Restaurant:
Poolside buffet and à la carte bar/restaurant, featuring a new dining concept: La Tapería, consisting of a select combination of tapas and hot and cold finger sandwiches.
OPENING HOURS: 12.30 pm - 5 pm

Mike's Coffee (NEW!):
Speciality teas, coffees and home-made cakes, as well as a wide selection of smoothies and milkshakes. Perfect for cooling off in the heat.
OPENING HOURS: 11 am - 7 pm

Tahiche Lobby Bar (REFURBISHED!):
Located in the lobby, with live music.
OPENING HOURS: 5 pm - 1 am

Montaña Roja:
Disco Bar
Activities and Entertainment:
The H10 Timanfaya Palace delivers an ample programme organised by the Blue Team entertainers for the adult public, with activities focused on wellness and gastronomic excellence.
• Cookery classes, live music and shows, theme nights, scuba diving centre, pilates, tai-chi, yoga, stretching, aqua aerobics, water polo, minigolf, shooting range, boules, giant chess, games area, outings, darts, pool and table tennis.
Location:
35 km from Lanzarote airport
40 km from the capital, Arrecife
0.3 km from Flamingo beach
2 km from Calle Limones (Playa Blanca's main shopping street)
3 km from Dorada beach
5 km from the Papagayo beaches
20 km from Timanfaya National Park
Lanzarote:
Visitors to Lanzarote come away knowing that this island is an oasis of sea, wind and lava, a place at the eastern end of the Canary archipelago where nature has created landscapes of great beauty due to the huge amount of volcanoes. Lanzarote is a true paradise for surfers, divers and visitors.
In Lanzarote you will find The National Park of Timanfaya, which is a UNESCO protected Biosphere Reserve. Another six tourist centres and more than 15 museums and art galleries endorse and extol the virtues of its lands and coasts.
You can explore the island of Lanzarote on foot, by bike or car and discover its beautiful long sandy beaches and wonderful beauty spots. You will be captivated by this island full of charm, beauty and spontaneity.
Golf Offers:
Golftenerife-grancanaria.com offers reduced rates on Lanzarote Golf and Costa Teguise Golf for all their clients